Contents
Chair's Welcome
Lunar New Year Celebration
Jonathan Hsy's Reflections on the New Year Party
Tim and Caleb on Stage
Spring Festival without Spring in Old Nanjing
Welcome Alex Huang to EALL
The 19th Hahn Moo-Sook Colloquium
Daidengaku Dance
Visiting Scholar Takashi Sugahara
Prof. Liana Chen at the AAS meeting
The Third GW Global Forum in Seoul
Dr. Xiaoning Chen
Julian Panelo Winner in the 11th Chinese Bridge
Study Chinese or Japanese in Summer
Job Opportunities with JUMP!
Essay Contest for Undergraduates in East Asian Stu
Support the EALL Department!
Upcoming Events
Alumni Weekend 2012
September 27-30




Attention members of the classes of 2007, 2002, 1997, 1992, 1987, 1982 and 1962 and earlier! Please mark your calendars for your class reunions to take place during Alumni Weekend, September 27–30, 2012.

The GW Office of Alumni Relations needs your help to plan events and invite classmates to attend. If you would like to nominate yourself or a classmate to serve on a reunion committee, please contact Stephanie Medwid, associate director of classes and reunions, at reunion@gwu.edu

Don't miss this monumental opportunity to reconnect with classmates, GW, and D.C.!

More than 2,500 alumni attended Alumni Weekend 2011. Read the highlights in the Colonial Cable and see more photos on Flickr.

"Teaching Business Chinese in the 21st Century: A Professional Development Seminar for Chinese Instructors"--part of GW-CIBER
Friday, May 4th, 2012, from 8:30am to 4:30pm
GW Center for International Business Education and Research at the George Washington University (GW-CIBER)


Kudos

Professors Takae Tsujioka and Shoko Hamano published Intermediate Japanese: A Grammar and Workbook. March 2012. London and New York: Routledge. Read more.

Dr. Michael Wert, B.A. 1997, East Asian Studies and Japanese Minor, has had his book manuscript accepted by the Harvard University Press. Mike writes: "I am happy to report that after a hefty round of revisions, Harvard University Press Asia Center extended me a contract for my first book tentatively titled Remembering Restoration Losers: Oguri Tadamasa, Ii Naosuke and Tokugawa Supporters. Two anonymous readers of the manuscript provided helpful suggestions for revisions (the learning process never ends), while a third scholar patiently helped me edit the entire manuscript last summer. I'll be spending this spring and part of the early summer putting on the finishing touches and, hopefully, the book should be out in the spring or summer of 2013."

Congratulations, Mike!

M. Howard-Johnson, ESIA BA '05, Awarded a Certificate from Peking University Law School. Howard writes, "Recently I was awarded a Certificate from Peking University Law School (Beijing, China). It was trully an honor to have been selected as a participant in the inaugural Hong Kong Mainland China Study Camp of the 'One Country Two Systems.' Along with engaging lectures from well-known Chinese Professors the study camp featured some memorable experiences to historical 天安门广场 Tiananmen Square, 天鹅湖 the Russian Swan Lake Ballet, and delicious taste of 北京烤鸭 Peking Roast Duck ! As my first visit to Beijing, the depth and breadth of the dialogues and activities were enlightening ! The entire camp was conducted in Mandarin Chinese." 京港一国两制法律问题研习营_证书与合影_122011_MHJ

Professor Young-Key Kim-Renaud was featured on WKTV, a local Korean-language TV station, on January 26 as a notable person in a short documentary under the title "Washington DC's People, 'Professor Young-Key Kim-Renaud of George Washington University, who has devoted her life to the advancement of Korean Studies'."

GW Senior and Winner of the Jiangsu Cup Chinese Speech Contest, Tim Quinn, Interviewed by the Washington Examiner. Our prized student, Tim Quinn, received some more media attention. He was interviewed by the Washington Examiner. Read more.

Professor Jonathan Chaves gave a talk, "The Translation of Chinese Poetry as Literary Art" to faculty and students, both graduate and undergraduate, of the Department of East Asian Languages and Cultures of the University of Illinois, Champaign-Urbana on March 13, 2012. He was hosted by Professor Cai Zongqi of that department. The talk explored the use of rhyme in English translations of rhyming Chinese poems, in the context of (1) the complex rhyme-categories followed by classical Chinese poets, and (2) the recent Neoformalist movement in American poetry.

Professor Young-Key Kim-Renaud was invited to give two lectures on the Sogang campus: (1) "Pragmatic Embedding for Linguistic Politeness," Sogang University Korean Language Educational Institute, March 14, 2012 and (1) "Making Sense of Korean Sound Symbolism to English Speakers," Sogang University Department of English Language and Literature, March 14, 2012.


Alex Huang, Associate Professor of English, Theatre, and East Asian Languages and Literatures, recently gave a talk at the "Touching a Universal Nerve: Drama in Translation" symposium at University of Michigan Ann Arbor (March 18, 2012). To his left in this photo is Michael Boyd, artistic director of Royal Shakespeare Company (now retired) and to his right is Ken Fischer, president of the University Musical Society.

Professor Liana Chen was invited to give a talk at University of California, Berkeley's Center for Chinese Studies on Wednesday, April 11, 2012, titled, "Power into Play: Guest Ritual and Tribute-Paying Dramas of the Qianlong Reign."

Professors Young-Key Kim-Renaud and Miok D. Pak published "Agreement in Korean Revisited," in David J. Silva (ed.), Inquiries into Korean Linguistics IV: 209-222, 2011. Seoul: Thaehaksa.

Professor Young-Key Kim-Renaud published "The Vowel System and Vowel Harmony in 15th-Century Korean: Alay-a (·) Revisited," in Bjarke Frellesvig and Peter Sells (eds.),Japanese/Korean Linguistics, Vol. 20, Stanford: CSLI (Center for the Study of Language and Information).

Professor Alexander Huang, Associate Professor of English, George Washington University, and Short-term Fellow, Folger Shakespeare Library, gave a talk titled, "Reorienting Global Shakespeare: Touring Productions to England," on Wednesday, April 25, 2012, at the Folger Shakespeare Library, Washington, DC.


Chair's Welcome
Young-Key Kim-Renaud

We started the new semester and the new year of the auspicious Black Dragon in high spirits. During the winter break, some of us went to Asia, some explored the U.S., and some stayed home, finding time for our family members and friends. It was really uplifting to see our Chinese language students competing so well among their peers outside the university, some of them even making appearances and performing with professional emcees and artists. The 19th Hahn Moo-Sook Colloquium in the Korean Humanities featured the memorable playwright and director Oh Tae-suk as well as great scholars of theatre, to the delight of a diverse audience. The 2012 Lunar New Year celebration, hosted by our department together with the Sigur Center and the Language Center, was as popular as ever, and there was a truly festive mood and much goodwill toward each other among all the participants. The enthusiasm and joy of the students and faculty participating in the recent Daidengaku performance on the Mount Vernon campus put everyone in the cherry-blossom mood, as we celebrated the 100th anniversary of the Japanese gift of the flowers that have come to symbolize the arrival of spring in DC. May we all enjoy a beautiful, cheerful, and fruitful life throughout the year!




Lunar New Year Celebration


A festival of bright colors, delicious food, student talent show, and happy smiles to greet the New Year of the Black Dragon

The lunar New Year's party for the auspicious year of the Black Dragon was even more festive than before, with various special programs. Dong Hongyuan laoshi designed the invitation card. The entire EALL faculty including many part-time instructors joined in providing a taste of Asia for a day for ourselves and for our more than 200 guests, who came to greet the New Year. We came in our national dresses, served foods from China, Japan, and Korea, transformed the CCAS Dean's Conference Room into a banquet room filled with decorations from East Asia. This year's special programs included talent shows by Caleb Dependahl and Tim Quinn, coordinated by Chen Xiaoning laoshi; film clips of skits created by Mitsuyo Sato sensei's Japanese students, (in alphabetical order) Arya Bahmanyar, Rachel Crawford, Richard Garzarelli, Alycia Glaze, Yunru He, Alaina Houser, Ye Hu, Yen Lin Kuo, Brandon Minor, Stuart Pagan, Monia Peres, Jiayi Wang, Soohyun Yang, Junmo Yun, and Yuhe Zhang; singing by Pak Miok sonsaengnim's Korean student, David Yoon, and long and lively skits by two more of her students studying Korean, Kevin Horvath and Alyssa Kopervos. Our faculty members also provided information on our programs and also on study-abroad programs. Everyone looked so beautiful, so happy, and so friendly! Many thanks to all the volunteers, students and faculty, who helped with the necessary crowd control and efficient food service. We are most grateful to all our students and colleagues, who participated in different ways, including being delightful guests. The best aspect of this celebration was the sense of the family and affection we all shared with each other, as always.




Reflections on the Lunar New Year Celebration and other EALL activities


by Jonathan Hsy of the English Department

On February 3, I had the honor of attending the EALL Lunar New Year Celebration. In addition to enjoying excellent food, it was a great pleasure to see the talents of undergraduate students (and their instructors) on display, including speeches in Chinese, musical performances in Korean, and recorded skits in Japanese.

In addition, two students performed live skits in Korean (they had written all the dialogue themselves and had committed everything to memory). I was most impressed by the enthusiastic performances by the 2011 Jiangsu Cup Chinese Speech Contest winners.

I am a first generation Taiwanese-American, and it was exciting (and humbling) to see students whose facility in spoken Mandarin far exceed my own. I am a specialist in medieval literature and my teaching in the English department does not involve any Asian languages, but my courses do incorporate a great deal of texts in translation from other linguistic traditions outside of English.

In my medieval literature classes, I ask students to compare and create translations of medieval poetry, driving home the point that close engagement with the original language is the gateway to understanding a distant culture. At the same time, I stress how literary analysis can inspire us to deepen our cultural perspectives and entertain diverse points of view.


As I interacted with undergraduates at this event, I was struck by the number of students who were enrolled in language courses not as native or heritage speakers but as students seeking to acquire skills in an entirely new language and to increase their knowledge of a culture that is not their own. This seems quite a testament to the inclusive spirit of dialogue and exchange that the EALL Department fosters. Ultimately, I found this event was not only a great opportunity to come together and showcase the accomplishments of EALL students, but it also provided a model for the sorts of interactions across languages and disciplines that should continue throughout the university as a whole.




Tim Quinn Reflects on New Opportunities in Chinese Study



By Tim Quinn
Quinn is a senior at GW's Columbian College of Arts and Sciences. A Chinese minor, Quinn won first place in the 2011 Chinese Bridge Speech Contest at the Washington Regional Preliminaries, and also won first place in the 2011 Jiangsu Cup Chinese Speech Contest held at GW

After studying abroad in China during my junior year, I was really worried about coming back to GW and not having many opportunities to continue using my Chinese. The Chinese Department here at GW, however, proved that fear to be entirely unfounded. Immediately upon my return, I was encouraged to participate in The Chinese Bridge Competition – an annual competition hosted by University of Maryland's Confucius Institute. With the help and guidance of one of the department's most talented faculty, Professor Xiaoning Cheng, I was able to take first place at the competition. This past November, I participated in another competition, The Jiangsu Cup Speech Competition hosted at GW in cooperation with Nanjing University. Again, with hard work and the guidance of GW's excellent Chinese faculty, I was able to succeed in obtaining a gold medal at the competition – a prize that comes with a full ride scholarship to do a Masters degree at Nanjing University.

Little did I know, however, there was a famous local director in the audience that afternoon. Luqun Zhao has directed The Greater Washington Area Chinese New Year Gala (大华府地区春节晚会)for several years now. This is a show that is put on every year at the Strathmore Music Hall in order to celebrate the Chinese New Year. In China, these types of shows are typical during the lunar New Year season and it is tradition that people all over China watch them when celebrating the lunar New Year – the most important holiday for Chinese people. China Central Television even puts on a New Year's show that is televised all over the country. In the U.S., The Greater Washington Area Chinese New Year's show is among the most famous in the country. Chinese-Americans from all over the east coast come here every year just for this event.

In the month after Ms. Zhao saw me at the competition here at GW, she contacted me and invited me to dinner. Over dinner, she introduced me to Qun Zhang, a 'Xiangsheng' artist who has performed both in China and in the U.S. He has consistently performed at the Chinese New Year festival here in DC and was looking for an American actor to perform alongside him during this year's festival. I was both honored and thrilled at this opportunity to perform alongside a man of such talent.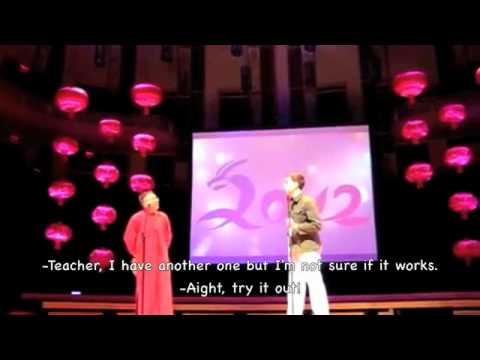 Working with Mr. Zhang was a remarkable experience. He is not a teacher of the Chinese language, but rather a performer, artist, and comedian. This being so, I had the unique opportunity to advance my knowledge of a specific art form that is still extremely popular in China today. "Xiangsheng" is generally translated in English as "cross talk", however this translation says little about what it really is. In many ways, it is similar to standup comedy, but only with two people. Xiangsheng performances tend to be characterized by thick accents and word play (Click on the photo on the left to get a video clip of the performance.). The first time I read the script he had written, so much of it went over my head. I understood the words, but the jokes consisted of puns as well as references to events and persons of cultural significance. In performing with Mr. Zhang, I was forced to explore the deeper meaning and cultural significance behind these references – a lesson that has reminded me that mastery of any language demands a consistent and relentless effort to understand its respective culture and history.

On the night of the performance, I was informed that over 900 tickets had been sold. Backstage I was introduced to famous Opera singers, actors, martial artists, dancers, and musicians. The one emcee of the event was even a recognizable CCTV (China Central Television) personality,
while the other was GW's very own Caleb Dependahl. Caleb is a senior in the Elliott School (double majoring in Chinese) who I have had the pleasure of working with both here in DC as well as in China. As a student who walked into CHIN001 at GW only about 3 years ago, the thought of walking onto a stage and speaking Mandarin in front of an audience of nearly a thousand Chinese and Chinese Americans was enough to put more than a couple butterflies in my stomach. Yet when the time came, I simply went out there and gave it my all. Watching Caleb go on stage first to introduce me also helped settle my nerves.

The audience was incredibly receptive and I got to meet many of the audience members after the show. While all the jokes had been explained to me and I had come to understand their context, I honestly didn't anticipate much laughter. To be truthful, I didn't really think they were that funny to begin with. Yet throughout the performance, there were multiple times when I was forced to pause because the laughter from the audience was too loud for me to deliver my next line! With all the laughs and applause, I found it hard to resist the temptation to break character and simply laugh along with them.


This experience has been but one of a series of great experiences I have had since my return from China. I never imagined when I first started studying Chinese at GW that I would be elevated and encouraged to use my Chinese in such a capacity. Since coming to GW and studying Chinese within this department, I have come to discover that by learning a new language I can interact with and have an impact on new communities that I never even knew existed. Sitting in Professor Miaochun Wei's intermediate level class my sophomore year, I never imagined that I would spend the following summer in Ningxia Autonomous Region working in ethnic Hui schools. Sitting in my dorm room in Guthridge making flashcards every week in order to prepare for dictation exercises, I never thought that the following year I would be on a stage performing 'xiangsheng' alongside an accredited Chinese performer in a concert hall. As a freshman registering for Chin001, I never thought that four years later I would be offered such an amazing opportunity to do graduate work at a prestigious Chinese university. Needless to say, my experience studying Chinese here at GW and working with the department's outstanding faculty has been immensely rewarding. If I can offer any other language learners a piece of advice it would be this: always remind yourself why you decided to learn the language by getting out there and using it. Use your target language to meet new people and do new things – you never know what sort of opportunities it might open up!




Spring Festival without Spring in Old Nanjing


By Sarah Tynen
Tynen is a 2011 graduate of George Washington University currently in Nanjing, China on a 10-month research grant from the Fulbright US Student Program to conduct an ethnographic case study on the old city of Nanjing. Her fieldwork involves participant observation, interviews, and mapping to explore the effect of urban redevelopment on socio-economic segregation and concepts of place-based identity.

"You must be so homesick! Aren't you going home to celebrate chunjie?" asked the Auntie that sells tofu on the back of a freight tricycle in the old city of Nanjing. Auntie rides down the narrow, winding alleys of Old Nanjing several times a day to emphatically announce her price of tofu at 500 grams for 1.5 yuan (that's about a pound for 25 cents). Standing at my doorstep the week before chunjie,or the Spring Festival, also known as the Chinese New Year in the West, she told me to stock up. It was the last day of business and she would be taking a weeklong break to celebrate the lunar new year.

The residents of Old Nanjing accumulated food as if they were preparing for a blizzard. Their pantries were stuffed with rice, potatoes, carrots, and other staples in preparation for the 15-day long chunjie from January 23rd to February 6th, when most businesses across the city shut down for at least a week.

Home to some of Nanjing's oldest housing structures and poorest residents, Old Nanjing is a small, historic neighborhood located near the center of the city, a provincial capital with a population of 8 million about 150 miles west of Shanghai. The meandering alleys are too narrow for vehicles and lined with old homes, or laofangzi as the locals call the one-to-two story dilapidated houses with the fading traces of traditional courtyard architecture. The laofangzi here may date back over 500 years to the Ming Dynasty. The native Nanjingese of this community are currently awaiting eviction and demolition. Many of the residents expect their homes to be relocated within the year.

Due to skyrocketing property values, business deals between local governments and private land developers, and the increasing popularity of privately run, gated high-rise compounds, China is razing old cities and displacing the residents to faraway suburbs at an alarming rate.

Although reliable statistics for Nanjing are unavailable, Beijing's Old Dilapidated Housing Renewal (ODHR) program evicted more than 500,000 residents from 1990 to 2003. As reported by Michael Meyer in his book The Last Days of Old Beijing, some unofficial estimates even go as high as 1.25 million residents. According to data provided by the Beijing Academy of Urban Planning, while the number of hutongs, or alley-ways, in Beijing exceeded 7,000 in the early 1950s and was reduced to about 2,000 in 1990, today there are only an estimated 900 hutong left in Beijing.


While the pace of urban redevelopment has supposedly slowed in Beijing since the end of the 2008 Olympic Games, in Nanjing the pace of demolition is quickening, as the city and provincial governments gear up for a wave of demolition in advance of the 2014 Youth Olympic Games. Signs around the city urge: "Stage a Good Youth Olympics, Build a New Nanjing!" and "Promote Harmony, Renew the Old City, Welcome the Youth Olympics!" A government official who requested to remain anonymous revealed to me that 100 billion RMB (15.7 billion USD) has been approved for urban redevelopment projects in preparation for the Youth Olympics.

Big red characters reading banqian, or "relocate", are spray painted on the outside of many of the homes in Old Nanjing. The residents, however, have not been given notice of compensation or official orders to move out yet. Torn and faded posters around the neighborhood read, "The Earlier You Move Out, The More Rewards You Will Get" and "Cast Away Illusion and Make Practical Negotiations." Residents say the posters were put up over two years ago, but no one has forced them to move out yet.

Two months ago, while eating lunch with a family in Old Nanjing, I stumbled upon the opportunity to move into a laofangzi with a 19-year old Chinese veterinarian student. I am conducting field work in Old Nanjing during my 10-month research grant from the Fulbright US Student Program to explore the relationship between urban redevelopment, socio-economic segregation, and concepts of local identity. I immediately took advantage of the opportunity to live in the neighborhood I am studying.

My new roommate, Little Sister Xie Rui, confided, "I would hate to part with this laofangzi. I will miss my neighbors so much when we're demolished and relocated." Although the rest of her family moved out of the laofangzi after her grandmother passed away three years ago, Little Sister Xie Rui refused to move into their new apartment. She still makes the one-hour commute from vet school to return to the laofangzi every other weekend. "My fondest memories from childhood are celebrating chunjie on our street: making dumplings, setting off firecrackers, watching the red lanterns go up, and getting money in red envelopes from the relatives. Though I still treasure this neighborhood, now I really couldn't care less about chunjie, except I have to say I like getting a month off from school so I can sleep in until noon everyday."

Many of the adults in the neighborhood express dislike for the New Year holiday. "There's nothing interesting whatsoever in celebrating chunjie," said Uncle Cao, who has converted his kitchen and living room into a noodle restaurant. His daughter poked her head out from the bedroom periodically to stare and giggle at me while I slurped my noodles. "The holiday has turned into one focused on consumerism, and it's all just about how much money you can spend."

"Chunjie doesn't mean anything to me," declared the kindly Grandpa practicing tai chi at the local park nestled between the ancient city wall and the Qinhuai River. He rubbed his fingers together in a gesture indicating the need for money. "I don't have any money to spend to go out and play. I'm retired, you know, and my pension is practically nothing. I have no money! What's fun about chunjie? Eating and drinking, but I don't have the money for this. If I had enough money, then chunjie might mean something."

Some of the residents do not understand why I am still conducting field research during chunjie, and insist that I return home for the holiday, or at least go traveling. My next-door neighbor Big Brother Guo insisted, "You're wasting your time! Chunjie is so boring. Most people return home for the holidays, and everything shuts down. The taste of the New Year celebration is gone in Old Nanjing since everyone is westernized. No one bothers to celebrate. The kids love it, but the teenagers aren't willing to participate, the adults are indifferent, and the old people are too tired and poor." Still, Big Brother Guo invited me to spend New Year's Eve with him and his family.

For some, however, chunjie is significant because it means spending time with family. Uncle Shen was born and raised in Old Nanjing. He lived with his parents in a laofangzi for 30 years before he moved out to Shandong Province to work as a car salesman while his wife stayed behind to care for their son with his parents. He comes home to Old Nanjing to see his family once a month. He explained, "It was fun for us when I was a kid because we were so poor, and chunjie was one time of year we could eat meat and wear new clothes. Heck, now we celebrate chunjie every day with the life we lead. So chunjie isn't anything that special anymore. But it's good to see family since we all work in different places now, and we're separated most of the year." Uncle Shen's situation is not uncommon in China, where children often stay behind with their grandparents when parents move to other provinces, or even countries, to work.

For the small, family-owned businesses in Old Nanjing, chunjie can mean either bad business or good business. For Uncle Cao's noodle restaurant, chunjie is busy with the tourists coming to see the nearby Confucius Temple and city wall. He explained to me, "Business is a little bit better around the holidays because people don't feel like cooking food at home, so they'll go out and casually eat some food at a restaurant. Plus we have the lantern festival at the city wall soon, which will attract people."

A few of the laofangzi on my street have been converted into thrift stores overflowing with inventories of used boots, sweaters, jackets, and handbags. Grandma Wang, a 75-year old owner of one of the second-hand clothing shops, remarked that business is terrible during chunjie. "Everyone wants to buy new things for chunjie, no one wants to buy used things on the holiday," she sighed, shaking her head with disappointment, "I've completely lost hope."

My 16-year old neighbor, Little Sister Li Jun, will spend her winter break from school working everyday at a chain megastore similar to Wal-Mart, the one store in the area that will remain open everyday during chunjie. She earns 88 yuan for each eight-hour shift (about $1.75 per hour). She will give half of her earnings to her family and keep half for herself as spending money. Meanwhile, her mom, aunt, and grandma sell kabobs every night for seven hours from a street cart to pay for her beauty school tuition. Auntie Li said they make about 40 to 50 yuan ($6 to $8) per night, depending on the day. When they ask me how much I could make an hour if I tutored English, I do not dare respond with the truth: native English speakers can make between 100 to 150 yuan ($16 to $24) an hour.

The week before chunjie, Auntie Li told me, "We'll be working everyday during chunjie. Business is always a little better during the holiday!" One night I did not see them in their usual corner by the city wall and I went to their home to inquire after them. Auntie Li admitted, "Since the cross-strait cooperative lantern festival is going on for chunjie at the city wall, the city management team told us we weren't allowed to sell kabobs until after chunjie was over."

The lantern festival was a mutual cooperation and cultural exchange effort between Jiangsu Province and Taiwan with the slogan of: "The auspicious dragon leaps over the Taiwan Strait, and the golden age will be shared harmoniously." Government officials from across China and Taiwan were in attendance. Although local residents were not allowed to attend the ceremony, we watched the rehearsals of various traditional Chinese drumming, martial arts, singing, and dancing performances during the week leading up to the event.

The penetrating sound of Auntie's voice selling tofu usually wakes me up in the morning, but this week the streets are quiet. For New Year's Eve, perhaps the most important day of the Spring Festival, I made spaghetti and peanut butter and jelly sandwiches for Big Brother Guo's family, who requested that I bring American food. I spent the afternoon helping his wife, Big Sister Chongyang, make spring rolls, chicken feet, and pig's tongue. Before dinner, Big Brother Guo set off firecrackers near the front stoop. We ate heartily, drinking corn juice—the latest health fad in China that promises weight loss—out of soup bowls and making wishes for each other for the coming New Year (mostly for higher salaries). Afterward, we ate sunflower seeds and watched the New Year's Special on CCTV, the most widely watched television program in China. The holiday was a relaxing, simple, and peaceful one that reminded me of celebrating Christmas in the U.S. at home with friends and family. The peace was broken at midnight, when we joined the rest of the country in setting off firecrackers. Little Sister Xie Rui complained, "The fireworks last for days on end. It kills me it's so loud!"

This is what chunjie means for the urban poor of China, the forgotten native Nanjingese that are waiting eviction and demolition. They are the ones that have been left behindby the city they call their own.




EALL Has an Energetic and Devoted New Faculty Member.


Welcome to EALL, Professor Alexander Huang of the English Department!

In February, the absolute majority of the full-time faculty members voted to embrace Professor Alexander Huang of the English Department as one of their own, albeit his appointment is a non-budgeted courtesy one. As he will also be affiliated with the Theatre and Dance Department, he might become the professor with the longest title at GW, "Associate Professor of English, East Asian Languages and Literatures, and Theatre and Dance."



Asian studies is a major component of

Professor

Huang's fields of interest, which include the modern literature theatre and film of Asian America, China, and the Chinese diaspora

–

theories and practice of digital humanities; and cultural globalization.





Since arriving at GW, Alex has been involved in a number of EALL initiatives. Last fall, he co-organized with Young-Key Kim-Renaud the 19th HMS Colloquium in Korean Humanities, one of the major annual EALL events. He also serves as co-editor of the Papers in the Asian Humanities series with Young-Key.




Alex has contributed extensively to the field of East Asian studies through teaching, research, and service. He has been elected to the MLA executive committee on the Division of East Asian Languages and Literatures for a five-year term starting 2012 where he will play a key role in promoting the teaching and research of Japanese, Korean, and Chinese languages and literatures at one of the oldest and largest scholarly organizations in the humanities. As the Vice President of the Mid-Atlantic Region Association for Asian Studies (MAR-AAS), Alex will rotate into the role of President in Fall 2012. He has also recently been appointed book review editor of Chinese Literature Today (http://www.ou.edu/clt/).

As the Vice President of the Association for Asian Performance (AAP, a scholarly organization of 200+ scholars), Alex is organizing the annual conference of AAP in Washington DC, August 1-2, 2012 (Hyatt Regency in DC) which includes a special exhibition of Cao Yu, the father of modern Chinese drama, with film screenings. The event is free and open to public and all are invited.

In 2010 he served as the principal organizer of the annual conference of the MAR-AAS at Penn State University (October 22-23). He also organized a day-long symposium "Asia and Global Digital Media" for K-12 teachers at Penn State (October 22, 2010) with the support of an Association for Asian Studies (AAS) outreach grant.

He maintains strong connections with leading academic institutions and theatre companies in East Asia as visiting professor, editor, archivist, author, and collaborator. He recently served as visiting scholar at the Central Academy of Drama in Beijing and Beijing Normal University, and distinguished visiting professor at Seoul National University (South Korea).

At GW, Alex is affiliated with the Sigur Center for Asian Studies. He has also contributed to Asian studies in a broader context as editorial board member of E.J. Brill's series on "East Asian Comparative Literature and Culture," and the video curator of "Imagining China: The View from Europe, 1550-1700," an exhibition at the Folger Library in Washington, D.C.

He is the author of Chinese Shakespeares: Two Centuries of Cultural Exchange (Columbia University Press), a study of the interactions between the ideas of "Shakespeare" and "China" in fiction, film, and theatre in an age of globalization. The book received three major awards: the Modern Language Association's (MLA) Aldo and Jeanne Scaglione Prize and the Colleagues' Choice Award of the International Convention for Asian Scholars (ICAS). He has appeared on various media outlets including BBC television and radio programs.

He regularly reviews grant proposals, journal article and book manuscripts for leading presses and journals as well as funding agencies in Asian studies, including positions (Duke University Press), Social Sciences and Humanities Research Council of Canada (SSHRC), Yale, Columbia, Palgrave, Ashgate, Cornell East Asian Series, Routledge, Chinese University of Hong Kong, Prentice Hall, Pearson Education; PMLA; Comparative Drama; Asian Theatre Journal; MLQ: A Journal of Literary History; CLCWeb: Comparative Literature and Culture; Comparative Literature Studies; Concentric: Literary and Cultural Studies; Chung-wai Literary Quarterly, and others.




"Staging Korea: Korean Theatre in Search of New Aesthetics"


The 19th Hahn Moo-Sook Colloquium in the Korean Humanities receives many accolades.
by Alexander Huang


The 19th Hahn Moo-Sook Colloquium in the Korean Humanities, which was held at GW's Harry Harding Auditorium in November, was a huge success. More than 150 theatre scholars and students traveled from Harvard, Yale, the University of Illinois Urbana-Champaign, Amherst, and the University of Michigan to hear the dynamic presentations by scholars from Seoul, and the United States and to attend a film screening on the eve of the colloquium.

The renowned Korean director and playwright of over 60 original plays, Oh Tae Suk of Mokwha Repertory Company in Seoul spoke at the colloquium about his methods of artistic creation and his vision for The Tempest. The filmed versions of the performances in Seoul and Edinburgh were shown to the audience during the two-day event. Oh's Tempest won the prestigious Herald Angel Award at the Edinburgh International Festival in August 2011.

Oh's The Tempest opened with a bang with a storm scene that transported Shakespeare's The Tempest to 5th century Korea. Prospero's book of magic transformed into a multi-colored magical fan, which he handed over to the audience at the end of the play. Caliban became a two-headed monster (skillfully played by two talented actors in one robe) who is sawed apart at the end. Oh adopts a remarkably light, fun approach to a play that has routinely been politicized in postcolonial discourses.

The editor of Shakespeare Quarterly and Folger Shakespeare Library research division director, Dr. David Schalwkyk, gave brilliant opening remarks, touching on his own experiences of cross-cultural exchange. Dr. Chan E. Park, Associate Professor of Korean Language, Literature, and Performance Studies, at the Ohio State University, gave a talk titled "Korean Drama in Search of Korean Theater: Past and Present," which detailed the challenges facing Korean directors who stand at the crossroads between tradition and modernity. Focusing on the construction of Korean theatrical identity in clash or in harmony with the indigenous Korean traditional plays, she pointed out that in tandem with the globalization trend, Korean theater sees a convergence of traditional and modern approaches.

Following Professor Park's paper, Dr. Suk-Young Kim, Associate Professor of Theatre at the University of California at Santa Barbara, took the audience behind the scenes to unveil the secrets of North Korean theatre. Entitled "Uncovering the Forgotten Decade: Shin Go-song's Ten Years and the North Korean Drama in the 1950s," her talk considered the play Ten Years, a 1958 play written by Sin Go-song, one of the most prominent figures of the early North Korean theater world, in the context of North Korean dramas of the 1950s, a period when artistic expression was less restricted. She argued effectively that various levels of border crossing in this play challenge the historiographic limitations of what we conventionally perceive as the North Korean dramatic tradition.

Master Oh Tae Suk followed on the heel of the two- presentations to share with the audience his artistic visions in a talk
entitled "Leaps, Omissions, Surprises, Spontaneity: My Forty Years of Theatrical Experimentation," and translated graciously on site by Professor Ah-jeong Kim.

Dr. Ah-jeong Kim, Professor of Theatre History at California State University, Northridge, gave a paper entitled "Translating Performance Between East and West: Aesthetic Dilemmas and Problems of Shakespeare Adaptations using as an example Oh Tae Suk's Romeo and Juliet at the Barbican Centre in 2006. The dramaturge and translator for the Barbican Centre production in 2006, she explored how Shakespeare's work was re-created in the hands of a masterful director, Oh Tae Suk. Her talk illustrated how his theatre methodology, which is firmly rooted in Korean sources, enabled Korea to be a full participant in the global exchange at the dawn of the 21st Century.


After the lavish Korean lunch in the Lindner Commons on the 6th floor of the Elliott School, Dr. Esther Kim Lee, Associate Professor in the Department of Theatre and the Asian American Studies Program at the University of Illinois at Urbana-Champaign, spoke about the vitality and depth of Korean-American drama and theatre. She recently edited Seven Contemporary Plays from the Korean Diaspora in the Americas (Duke University Press, 2012), and her presentation drew from the new anthology. Entitled "'Remember to Forget': A Study of the Family in Contemporary Plays from the Korean Diaspora in the U.S," her illustrated talk analyzed how the reoccurring themes and issues about family derive from such dispersed sense of existence and how the existence is also dynamic and constantly changing, by focusing on Cleveland Raining by Sung Rno, Satellites by Diana Son, American Hwangap by Lloyd Suh, and 99 Histories by Julia Cho.

Echoing Master Oh's lively presentation on how he directed Shakespeare's The Tempest and Professor Ah-jeong Kim's paper on Shakespeare in Korean cultural contexts, Dr. Alexander C. Y. Huang, Associate Professor of English at GW, offered an overview of Shakespeare in the global context and his appreciation of Master Oh's version of The Tempest (which he had the good fortune to see live on stage during this year's Edinburgh International Festival). He noted that Shakespeare's global career is far from a simple story of Western colonial expansion and Latin American, African, or Asian postcolonial reorientation. As Oh's Tempest and Romeo and Juliet amply demonstrated, global is not a linear process of transmission from Shakespearean texts to foreign-language performative texts. The plays are often filtered by many languages and performance traditions. The Korean Tempest extrapolates something extraordinary from both the Elizabethan genre of romance and the Korean tradition of hybrid theatrical genres (such as ch'anggŭk and the masked dance drama kamyŏn'gŭk).

Dr. Richard Nichols (Emeritus Professor of Theater at Penn State University) closed exhilarating film screenings and a day of illuminating presentations on Korean theatre with insightful concluding remarks. Professor Nichols recently edited the monumental Modern Korean Drama: An Anthology, published by Columbia University Press. He began with personal stories of how he was attracted to Korean theatre and began studying it, and moved on to analyze what is unique of this performance tradition and its continued vitality in the world. His moving account of his own journey through Korean theatre will no doubt inspire many to follow in his footsteps to discover the beauty of Korean culture.

GW students who attended the event were impressed by the deep baritone drums and turbulent music. They wrote: "The stage bursts forth with color and white robed dancers elegantly gesticulating with beautiful white pieces of cloth." The audience, they said, was treated to "a jarring visual portrait of the stormy opening scene." They were fond of the Caliban as two-headed monster (or Siamese twin) "consisting of a normal-sized man and his 'little brother,' a figure of diminutive stature. By giving Caliban two heads, Oh Tae-suk gives added depth to the character that can now converse with itself and have two separate personalities. In Shakespeare's original play Caliban maintains several child-like features and has been molded by Prospero's teachings as a child. Oh maintains the child-like aspects of Caliban within the smaller Siamese twin, often referred to as "Little Brother." An Elliott School student, Kristin Marsh Song, said: "… It only heightened my eagerness to continue my studies and immerse myself again in the culture and language." Chemistry Professor Akbar Montaser, one of the many GW faculty who attended the colloquium, expressed his satisfaction with the experience: "Wow! What a grand depiction of Korean Humanities. It was flawless, inimitable." Another GW faculty teaching Asian Art, Susanne Francoeur, wrote: "Just to let you know how much we enjoyed last weekend's colloquium. Thank you so much for including us in this memorable event. The topic was particularly interesting for me as it also relates to aspects of visual arts that I deal with in my field. We'll have to get together soon and talk about this topic more.... and the delicious Korean lunch topped it all off."

Many participants from outside GW have written with the same excitement and appreciation. Catarina Kim, ESIA BA 05, engaged in international affairs, wrote: "I felt that this year's colloquium was truly one of the best of the bests, and I was so impressed by the quality of the talks and presentations. The topic itself pushed me to reflect on the importance of the arts... I realized that music and theater are an integral part of how I get inspired, and how I cope with life. The explanation of kut porŏ kaja 'Lets go watch the show/shaman ritual' as a means of using the parts of our brain that we do not use in the mundane rituals of our daily lives was intriguing. Also, Master Oh's notion that the theater experience is a communal one, and one that is only complete by the active participation of the audience was enlightening! Finally, the sincerity and passion that all of the presenters demonstrated toward their studies and craft was beautiful and humbling." A Ph.D. candidate in Theatre History at the University of Illinois, Urbana-Champaign, Sandra Lee, who came to DC just to attend the colloquium said: "…this trip did mark a turning point in my life." Shira Milikowsky, Artistic Director Fellow at Harvard's American Repertory Theatre, who also made a special trip for the colloquium interjected: "My interest in Korean theater is a big part of my work, and it's a major project for me trying to figure out how to integrate it all together. It was an utter joy to spend all day today thinking about these different topics that the speakers touched upon. Thank you for coordinating it so wonderfully." Harvey Kipper of the Wharton Club of DC sent an encouraging comment: "My only regret is that I missed sixteen of the nineteen colloquia."

Speakers were also very happy with the colloquium, which they described with such kind words as "beautiful memories to cherish for a long, long time," "highly successful," "one of the highlights of my career," "making a significant impact in Korean studies," "the golden memory," etc.

Two Korean language newspapers, the Korea Daily and the Korea Times, featured the colloquium.

What has made the HMS Colloquium series so popular was partly explained by Master Oh's vision of creativity. It is the audience's active involvement, encouragement, and support that have made these events so much more meaningful and fun for all.


Video highlights are now available online with English subtitles:

To view the amazing storm scene with drum beats, click http://youtu.be/dWAqR03mnTw

Ferdinand "reborn" as a pillow: http://youtu.be/LF_1yKQXW3M

Two-headed Caliban separated by Prospero into two creatures: http://youtu.be/_52fnxNvtmQ


MORE VIDEOS

David Schalkwyk's opening remarks:
http://youtu.be/0ZbA8F7Az8o

Master Oh's talk translated by Ah-jeong part 1:
http://youtu.be/3OhOkXsI4ws

Master Oh's talk translated by Ah-jeong part 2:
http://youtu.be/giSpbUBuQ2Y

Master Oh's improvisational performance of pansori (traditional Korean opera) at dinner:
http://youtu.be/ZtVweeOfEDI
Ah-jeong Kim's talk on Oh Tae-suk's Romeo and Juliet and The Tempest, part 1:

http://youtu.be/0K42DemjLAw

Ah-jeong's talk on Oh Tae-suk's Romeo and Juliet and The Tempest, part 2:
http://youtu.be/Os7u1wAySJY

Ah-jeong's talk on Oh Tae-suk's Romeo and Juliet and The Tempest, part 3:
http://youtu.be/vyNwf1fcSO8

Alex Huang's talk on Oh's The Tempest:
http://youtu.be/ejrFjHqZltM




Twenty GW Students and Faculty Join Twenty Professional Performers from Japan Participating in a Spectacular Daidengaku Dance.


The dance was part of the festivities commemorating the 100th anniversary of the first gifts of cherry blossom trees by Japan to the US.

On March 28, the GW community had a special treat to a taste of Japan at the Hand Chapel on the Mount Vernon campus through a memorable performance of Daidengaku—an ancient, lost art and dance tradition of Japan originating from rice-planting festivities, which was revived recently by a Kyogen master, Mannojo Nomura (1959-2004). Our Japanese faculty, Mitsuyo Sato and Rika Seya, and students of Japanese, Joseph Cooper, Rachel Crawford, Marjory Haraguchi, Stewart Pagan, Monica Perez, Eun Hye Sin, Erika Videtto, and and other GW students, Mai Hayano, Kazu Koyama, danced together with professional performers led by Manzo Nomura, Mannojo's grandson who has been designated as a bearer of an Intangible Cultural Heritage, and joined by a famous actress Keiko Matsuzaka. The exuberance and enthusiasm of the performers beautifully adorned in authentic costumes and makeup were contagious, and the audience was carried away in a joyful and colorful journey. Hamano Shoko sensei, in an opening remark, observed the significance of rice in the Japanese culture, and briefly described the pre-performance workshop and practice the performers had gone through. Rachel Crawford, a student in the second-year Japanese, who participated in the performance, commented on her entire involvement as follows:

"The best thing about the workshop on Tuesday was hearing about the history of not only daidengaku but the other dances (such as kabuki) that developed out of it, and how they influenced each other. It was a story of a history of dances spanning hundreds of years.

The best thing about the performance on Wednesday was wearing the traditional garb for the dance. It brought us closer to the history of the dance and was an experience that most of us will not have the opportunity to do again. Dressing in traditional garb for the performance made us feel like we really accomplished something during the workshop.

I was surprised how much of the workshop we were able to accomplish while speaking only in Japanese. It was a great way for me to practice my language skills while learning something cultural and fun.

I told my family a little about the history and the type of dance it was, that it was an active dance that was supposed to be joyful and thankful. The mentality made the dance a lot of fun to perform."

Professor Hamano added, "the mentality" the student mentioned refers to the explanation offered by the staff that it is more important to bring out the spirit/energy than to focus on dance steps because the whole idea is to enjoy the experience."

You can see the whole performance by looking at the five-part video taken by Professor Takae Tsujioka: Part 1, Part 2, Part 3, Part 4, Part 5

News Channel 9 carried the event under the title, "Japanese Folk Dance Has Modern Appeal With Locals And Students."

Special thanks to the members of the Japanese Language and Literature Program and the Language Center staff for their leadership role in this significant event. Read more.




EALL welcomes our new visiting scholar from Japan, Dr. Takashi Sugahara



Dr. Sugahara is a lecturer at Gifu National College of Technology in Japan. His research interest is in onomatopoeic words and sound symbolism in Japanese and English. During his stay in DC for a year starting in April 2012, Dr. Sugahara will work on a project identifying mimetic words in Japanese and English. He will work closely with Professor Shoko Hamano, who is his faculty sponsor and an expert on Sound Symbolism.






Professor Liana Chen was a star at the AAS meeting in Toronto


The impromptu performance of a kunqu opera area enchants fellow dinner guests during the conference.

Dr. Liana Chen, assistant professor of Chinese literature in the EALL Department, sang an aria of Tang Xianzu's kunqu opera "Peony Pavilion" with Dr. Rose Ren-Hui Jang (Evergreen State College), Dr. XU Lili (許莉莉, Nanjing University), and Ms. XU Peng (doctoral candidate, University of Chicago) in Toronto. Their impromptu performance took place during the dinner of the Conference on Chinese Oral and Performing Literature (CHINOPERL) in conjunction with the Association for Asian Studies (AAS) annual conference in Toronto on March 15, 2012. Professor Chen said later, "I haven't practiced it for fifteen years! But it was a lot of fun singing it with my Chinoperl friends!" A video highlight is on YouTube: http://youtu.be/KJHwwxH9dYc.

Prof. Chen's paper at the AAS entitled "Curating the Ideal Performance in a Qing Drama Miscellany: The Textual Afterlife of The Story of the Lute," was well received. Her panel consisted of leading scholars in the field of traditional Chinese drama, including Stephen West, Patricia Sieber, and David Ralston. In the paper, she argues that the fantastical "performances" of the famous play offer us a window into understanding how Qing literati participated in the process of refinement (yahua) of Kunqu performances, and how the play gained an extensive afterlife in print.

Qing drama miscellanies are some of the most important venues where Chinese literati negotiated the presence of Lute (Pipaji) in print and performance. Shenyin jiangu lu (A record for parsing notes and mirroring classic performances) is a Kunqu drama miscellany published in the Qianlong reign and reprinted in 1834. It is the only extant Kunqu miscellany with exhaustive stage directions and, as such, the work was seen as a guidebook for aspiring Kunqu practitioners. However, the compiler's attempt to establish a paradigm for Kunqu performance through carefully arranged commentaries suggests that it targeted a rather "highbrow" reading public — most likely literati fans of Kunqu.

Chen's paper examines Shenyin jiangu lu's redacted excerpts of The Story of the Lute and its commentaries on these selected and rewritten scenes. To what extent were the staging guidelines in Shenyin jiangu lu informed by the commentary tradition, particularly by the circulation of such annotated editions as the "Seventh Book of Genius"? Through analyzing the structure of staging directions, the revisions on arias and dialogues, the notes and comments on characterization and plot development, as well as the illustrations, she argues that the compiler of Shenyin jiangu lu drew on the Chinese commentary tradition to curate elaborate textual representations of an ideal stage production in his mind's eye. As a result, the performance culture was connected to the print culture and other modes of literary production in the Qing dynasty.




The Third GW Global Forum Meets in Seoul.


Professor Young-Key Kim-Renaud, EALL Department Chair, was one of the Speakers

Seoul was the venue chosen for the Third GW Global Forum. More than 300 alumni and friends from 18 countries attended the meeting, which was held March 16 and 17 at the Grand Hyatt Seoul, to discuss global growth and innovation. Many distinguished speakers, including retired General Colin Powell, GWSB MBA '71, Alec Ross, Chris Anderson, CCAS BS '81, a leading media businessman Dae Whan Chang, ESIA MA '76, and Former Ambassador of Korea to the US, Duck-soo Han, as well as GW President Steven Knapp, Provost Steve Lerman, several deans, and some faculty members, spoke of the effect of technology on global growth and innovation in the areas of economy, knowledge, health, and democratization. Professor Young-Key Kim-Renaud spoke in a panel that discussed how the ways people interact, think, behave and access public health are changing. The First GW Global Forum was held in Hong Kong in 2009 and the second in New York City in 2010. Read more.




Professor Xiaoning Chen


Hanban Teaching Fellow in Chinese Publishes her Reflections on her Life and Work in the U.S.
Professor Xiaoning (Julia) Chen, our Hanban Teaching Fellow from China, has been a regular contributor to a popular series entitled "Teaching Chinese in the USA," an on-line magazine on the Chinese language.

Dr. Xiaoning (Julia) Chen's column includes sharp and
elegant observations on her personal experiences as a Chinese language instructor in the Department of East Asian Languages and Literatures at The George Washington University. Nine articles have been published in 中国语言生活('Chinese Language in Practice,' by The Commercial Press, a top publisher founded in 1897.) as follows: (1) "Just Arrived," Issue 4, 2010; (2) "My American Students and Chinese Colleagues," Issue 1, 2011; (3) "Power of Praising," Issue 2, 2011; (4) "Orlando's Magic Words", Issue 3, 2011; (5) "Gardeners, Seeds, and Flowers of Chinese," Issue 4, 2011; (6) "Notes from Khorchin I: Teaching Chinese in the USA," Issue 5, 2011: (7) "Notes from Khorchin II: Robust Sponge," Issue 6, 2011; (8) "Me and Chinese Bridge," Issue 1, 2012; (9) "Positive Attitude," Issue 2, 2012.


One article under the title "Teaching Chinese in the USA" was also published in the official flagship peer-reviewed magazine 世界汉语教学学会通讯(the International Society for Chinese Language Teaching Newsletter, Volume 12, Issue 4, 2011)

View the original texts written in Chinese. Six of the above articles have also been reprinted with permission by the online magazine of The International Society for Chinese Language Teaching.




Julian Panero Gets the First Prize at the Chinese Speech Contest!


GW is Again the Winner!

Julian Panero, double-majoring in Chinese Language and Literature and Economics, won the first prize in the Eleventh Chinese Bridge Chinese Proficiency Competition for Foreign College Students, co-organized by the Embassy of the Republic of China in Washington, DC, and the Confucius Institute at the University of Maryland, on April 15, 2012. Dong Hongyuan Laoshi served on the judge panel.

Julian won by a large margin this year, mesmerizing the audience with his impressive performance in both the speech and talent presentation parts. Once again, Xiaoning Chen Laoshi, our Hanban Teaching Fellow from China, did a fantastic job coaching him. Her selfless devotion in addition to her ever flowing creativity gave Julian an invaluable help, as did the total involvement of our Chinese language program faculty. In the final analysis, however, it was Julian's own talent, resolve, and effort that made him a champion. Thanks for bringing honor to GW, Julian, and our heartfelt congratulations!


Julian has taken Chinese language and literature courses with five different teachers at GW and studied abroad in China in the prestigious ACC (Associated Colleges in China) Intensive Language and Culture Program by Hamilton College, proving himself an excellent student in every course and program he took. We are indeed enormously proud of him.


Read more.




Study East Asian Languages This Summer at Home!


Take Chinese or Japanese Right on GW Campus!

Two fantastic opportunities to study Chinese and Japanese during the summer in DC on the GW campus exist. Please take advantage of them!

Summer Chinese @ GW

We are offering Beginning Chinese I and II in two 6-week sessions taught by Professor Hongyuan Dong this summer. CHIN1001 May 21-June 30 MTWR 12:00-2:30 pm, CHIN1002 July 5-August 15 MTWR 12:00-2:30 pm

Summer Japanese @ GW

The Japanese Language and Culture Summer Institute is directed and taught by Professor Leo Hanami.


Job Opportunities with JUMP! in Beijing for Mandarin Speakers
Elizabeth Heller, a Princeton in Asia Fellow, Encourages Others to Join Her in China.

Liz Heller (in the white shirt in the center of the photo at the Great Wall with some of her students) is a 2010 graduate of GW's Columbian College, where she majored in Chinese Language and Literature and spent a semester abroad in Beijing in 2009. Liz was selected as a Princeton in Asia Fellow upon graduation and placed at the JUMP! Foundation, a non-profit organization based in Beijing. Liz chose to remain at JUMP! after her fellowship ended and is currently a Senior Program Manager - Liz manages JUMP's leadership programs with international schools in South East Asia and is also the Program Manager for JUMP's upcoming summer program, which hosts American inner-city high school students on full scholarships in Beijing for a 6-week study abroad experience. To read more about the JUMP! Foundation, visit their website.

Liz is calling attention to two excellent, paying job opportunities for our majors and other students in China. JUMP! is looking for qualified new people to fill some job openings that they have for some long-term positions. The job openings are in Beijing so they are looking for Mandarin-speakers who are interested in China and have experience working with youth. The job descriptions can be found at the following links:

Partnership Development Manager

Program Manager




2012 Donghwa: East Meets West Internatonal Essay Competition


Deadline is May 25, 2012
Donghwa Cultural Foundation (DCF) is a non-profit organization located in Englewood, New Jersey. By introducing the fundamental values of both Eastern and Western cultures. DCF is dedicated to provide a better understanding and appreciation of different traditions, ideas, and practices in order to develop a more peaceful and harmonious world. 2012 Donghwa: East Meets West International Essay Competition is open to all high school and college students.

Division:

High School grades 9-12 (800 min. – 1,000 words max.)
College (1,200 min. – 1,500 words max.)

Application Fee: 15 dollars

Prizes:

Grand prize (one round trip air ticket to Korea)
Gold, Silver, and Bronze Prizes (Scholarship)

Flyer
Guidelines
Application

Donghwa Cultural Foundation, Inc. 49 Honeck Street, Englewood, NJ 07631 USA 201-871-3033

ᅵ

essay@donghwaculture.org




Thank you for your Support!




Gifts to the Department of East Asian Languages and Literatures allow us to provide support for faculty and student research and travel, graduate student fellowships, and academic enrichment activities including guest speakers, visiting faculty, and symposia. Each gift, no matter how large or small, makes a positive impact on our educational mission and furthers our standing as one of the best places to study East Asia at one of the world's preeminent universities. Your material as well as spiritual support encourages us to do what we love to do with even more enthusiasm, but it crucially provides new opportunities for us to realize our dreams and aspirations. Most importantly, it is wonderful to know that there are so many people who care about our work and regard our successes as their own.





We are most grateful to the following donors for their generous financial support for the department in the past academic year (FY2011-2012):







Donors:
Fidelity Foundation
The William I. and Patricia S. Snyder Foundation
Mr. Andrew C. Herron, BA '04
Dr. Young-Key Kim-Renaud, Faculty
Dr. Dwan Tai, MPhil '72, PhD '73
Ms. Melanie B, Tekirian, BA '91
Dr. Phyllis Zhang, Faculty
Currently there are the following funds that help us achieve excellence in our research, teaching, and activities:
DEPARTMENTAL FUND
East Asian Languages And Literatures

Korean Language & Culture Program Fund

East Asian Languages & Literatures-Research Enhancement Incentive

East Asian Languages-Education & Research Fund



SCHOLARSHIPS & ENDOWMENT

S

Young-Key Kim-Renaud Endowed Fund for Korean Language and Literature

Korean Language & Culture Prize

Hahn Moo-Sook Fund for the Korean Humanities

The Sejong Scholarship Fund
Give now